Áine Breen – Liwu Jewellery
After moving to China in 2011, Áine Breen immersed herself in the local culture never knowing it would eventually lead her to setting up a business back home in Wexford.
---
Aisling Kelly – WB's Coffee House and Sligo Oyster Experience
Having spent every holiday traveling around the world, Aisling Kelly has seen many interesting places, but there's nowhere quite like home.
---
Breda Maleney – Níos Mó Nutrition
Breda Maleney, whose business is based in Belmont, Birr, Co Offaly, set up Níos Mó Nutrition in September 2019 having already operated a healthy snack company for a number of years.
---
Bríd Graham – Splash Swim School
Working as a primary school teacher for 20 years gave Bríd Graham a valuable insight into building confidence in children. It is something she holds close to her heart as a swimming instructor and Director of Splash Swim School.
---
Brigid Riley – Fernwood Flowers
Brigid Riley is the creative force behind Fernwood Flowers with a design career spanning two decades and two continents, from fashion designer in New York City to event and floral stylist in Washington DC.
---
Claire Skehan– Sweet Living
After designing chocolate bars for Brian Dowling's wedding, AP McCoy's retirement party, Lorraine Keane and other celebrities, the cravings for Claire Molloy's custom-made bars are growing stronger.
---
Caitriona Considine – Moher Cottage
With breath-taking views across the Clare countryside and Liscannor Bay, Caitriona Considine couldn't have picked a better spot for the location of her gift and coffee shop.
---
Elaine Jacob Healy– Dare to Dream lashes
Elaine Jacob Healy loved experimenting with makeup and she always wanted her own brand.
---
Eilín O'Carroll – Firmount House
Firmount House has a rich and colourful history dating all the way back to the 17th century, and Eilín O'Carroll and her husband David have injected fresh life into the house.
---
Finn van der Aar  – Saltwater Stories
Finn holds a BSc in Earth & Ocean Science, an MSc in Marine Biology and a Certificate in Culinary Arts. She is the EU LIFE Project Coordinator for An Taisce, the National Trust for Ireland, Ireland's longest standing environmental NGO.
---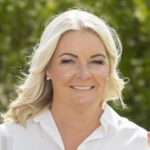 Joanne Browne – Jo Browne
In 2016, she chose to follow her dream to create natural organic skincare. With overwhelming success and feedback the Jo Browne brand was born. Her ethos is to develop premium products in a natural, sustainable way.
---

Kabira Allain – Kymaïa
Born and raised in France to Moroccan parents, Kabira always had an interest in clothing and fashion.
---
Kyna Maree– By Kyna
Kyna Maree is an award winning Irish designer and milliner. Kyna has always had a keen eye for fashion and design.
---
Laura Moloney – Laurel the salon
Having grown up with four older sisters, Laura was often the guinea pig for their make-up trials. This instilled in her a love of experimenting with beauty products and, by the time she reached primary school, she knew she wanted to be a beauty therapist.
---
Louise Egan – I-SPY Clothing
Sitting the Leaving Certificate and setting up a new business are two extremely stressful experiences – but Louise Egan managed to do both at the same time.
---
Maura Sheehy – Maura's Cottage Flowers
Maura Sheehy had always dreamed of having a cottage garden, but instead she devoted the outdoor space to her seven children. As her children grew older, Maura completed a horticulture course to reclaim her garden.
---
Michelle Wallace – A Better Work
Michelle Wallace is focused on creating high-performance environments for long-term sustainable business growth. As a culture change agent, she is passionate about making a difference in the world of work.
---
Niamh Gaffney – Directionality
Niamh Gaffney is an award-winning psychology coach with a particular focus on change management and mental strength development. Through her company Directionality Horizons Ltd., established in 2016, she provides business and coaching psychology services to organisations and individuals which allow them to work, better.
---
Nikki Reddy – Celtic Adventures
Just before Nikki Reddy joined ACORNS, she and her husband Dave launched their first Celtic Adventures centre in Clogherhead, Co. Louth in August 2016.
---
Orlagh Deegan – Choice Training
Selling garden potatoes outside her house at just 10 years of age, Orlagh Deegan was always destined to become an entrepreneur.
---
Sheena Dignam – Galway Food Tours
Helping her parents run their guest house in the Loire Valley, and studying culinary arts and wine in France, fuelled Sheena Dignam's passion for top-quality food experiences.
---
Tara Brady – Ireland Planner
The idea for Ireland Planner came to Tara Brady while she was caring for her mother who had Alzheimer's Disease. To help her mother stay engaged and occupied,  Tara started researching activities in her home county of Cavan.
---
Trish O'Neill – Trish Honey Products
Trish O'Neill was inspired to make honey products to try and ease her skin allergies. After many years of research, and much trial and error, she still struggled to source a product that was suitable for her own skin.
After experimenting with beeswax and honey, she created organic alternative products that are gentle and nourishing for the skin.
---